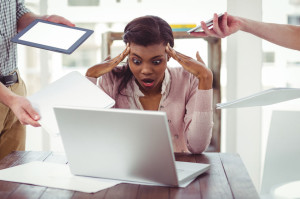 As a small business owner, you likely wear many hats. CEO, bookkeeper, hiring manager, etc. It can be exhausting and not to mention time consuming. Who wants to add another role of social marketing marketer to the list? The truth is, if you attempt to take on your social media marketing, you're going to do so at a cost.
What do you mean, you ask? It's "free," to do it yourself. When you look at the big picture, you'll find it's in fact expensive to take a DIY approach. Let's look at the facts:
Opportunity cost
When you're distracted with tasks that aren't mission-critical, you can miss opportunities that will impact your long-term financial picture. Maybe a large order comes in but you're too overextended or drained to accept it, because your attention is divided. Or maybe you're asked to present at a conference that could really elevate your stature, but you're too spread thin to even think about committting. The mental burden, though hard to quantify, is often substantial.
Time
What is your time worth? When you're weighted down by activities that don't bring in revenue (at least not immediately), you're putting your business at jeopardy. Think how productive and profitable you might be if you offload tasks that eat away at your precious time. In this can, you might even have more time to spend with friends and family. That's a gift in and of itself.
Reputation
Work done by amateurs tends to look that way and it doesn't inspire confidence. What will your prospects and customers think if they see a poorly executed social media strategy? One embarrassing error could really cost you. Trust me, you don't want to find out the hard way. You want to put your best foot forward online.
Speaking of social media, I'd like to give you and your team a one-time complimentary social media "reach" assessment (No obligation or risk). Follow this link to schedule a Zoom call with me and our top strategist. Simply click the link to access our calendar and schedule the Zoom call. Be sure to pick a time that you can be in front of your computer and check your email for confirmation. The confirmation will contain instructions for joining the Zoom meeting. By doing it this way we will be able to share our screen and show you some live examples of what we do.