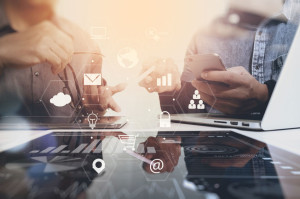 Digital marketing is an all encompassing term used to identify ways in which companies (or individuals) leverage digital technologies to gain brand awareness, exposure, and ultimately new customers and sales.
The technological evolution and the overall expansion of e-commerce has positively affected the way consumers shop and spend. Which, conjunctively alters marketing efforts. If consumers are shopping and spending more money and time online, then advertising efforts must be predominantly online. Hence the explosion of the digital marketing industry.
The ease with which the internet can be accessed has single-handedly changed marketing forever. The amount of people shopping and browsing online every day is a number growing on a daily basis. Every single day more people are online in some way. With this knowledge, digital marketing agencies and departments are targeting digital channels with precision.
Everything Under the Umbrella of Digital Marketing
Search Engines – SEO (Search Engine Optimization) and PPC (Pay-Per-Click) are two varying marketing strategies using search engines to reach potential and existing customers, while also gaining organic and paid exposure.
Social Media – Instagram, Facebook, LinkedIn, Snapchat, and Twitter are some of the main social media platforms used to promote businesses. Both paid and free advertising tactics are implemented within a company's digital marketing strategy. Social media is a direct link to a business's customers and clients – taking connectivity and engagement to a whole other level, increasing accessibility.
Email – Email marketing campaigns are essential for complete digital implementation. Work flow can even be automated for sending out specific information depending on the stage of the sales funnel a subscriber is in at any given time. Welcome emails, thank you responses, promotions, and companywide informational templates can all be properly utilized within email marketing campaigns.
Company Websites – All viable companies have corresponding websites (if you do not, this would be the immediate place to begin). As previously mentioned, website traffic is increasing daily. An updated and relevant website is a store front for inquiring customers; a place they can visit and begin to build trust in your brand.
Webinars – Hosting live webinars can be a great addition to a network marketing campaign. If an interested client or customer can put a face with a brand, trustworthiness increases. Trust and validity are two of the most vital aspects in this evolving world of digitization. Things are too easy to fake. Scams are rampant but live visuals are an easy way to combat this online cat-fishing fear.
Content Marketing – Content is king. If you have heard this once, you will likely hear it a couple hundred times more. The adage is cliche for a reason. Written and visual content supersede any other form of marketing. Direct content is created to increase brand awareness, generate new leads, increase website traffic, and promote overall engagement.
Videos – Product or service videos, like live webinars, build trust. Without trust, there can be no conversions and no profit from sales. Aside from the benefits videos bring to businesses, Google inadvertently rewards you for them too. Google algorithms take into consideration the amount of time a direct visitor spends on your website. Videos take more time to watch, thus increasing the amount of time spent on your site.
The aforementioned marketing tools are suggestions for use in the grand scheme of digital marketing, but all should have a place in your online marketing strategy. If you a local healthcare company in Indianapolis and need a little guidance when it comes to digital marketing in Indiana, or if you find yourself asking: (1.) How do I market my business? or (2.) How can I increase my brand awareness?, please feel free to visit our website for more guidance and information.