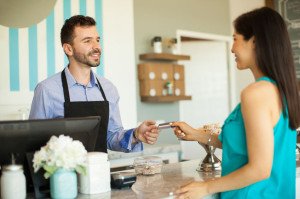 While larger corporations have some advantages that small, independent businesses do not, there is good news. The pandemic has helped small businesses blossom in a way. That's because people want to help their neighborhood small businesses survive. This presents an opportunity for small business owners to build brand loyalty and deepen customer engagement.
Embrace an online strategy
How can you get a leg up over corporations and establish a competitive edge? For one, it helps to understand how your customers want to do business with you and think of innovative ways to deliver. Put simply, you need to be where your customers are — and that's increasingly online. Think e-commerce and social media.
Getting started on building a digital presence can be a daunting task and costly, but some technologies out there are reasonably priced or even free. Once you have these pieces in place, you'll have a unique advantage because of the customer experiences you create.
Market intelligently
This goes beyond sending an email. Technology can help you refine your marketing message, find new customers and create repeat customers. There are a plethora of marketing automation tools on the market to meet the most basic to sophisticated needs.
It should be mentioned that an authentic presence on social media can help generate organic leads with little to no upfront cost. Being responsive and accessible can help customers feel like they know you on a personal level.
Automate when and how you can
Be mindful of how automated solutions can help you focus on your core business functions. To their detriment, many small-business owners are not actively seeking out simple ways to increase revenue and pare down costs. This could mean outsourcing some of your accounting, for example, either to an accountant or looking to platforms like QuickBooks to streamline. Free up valuable time by identifying these time and resource-intensive tasks and you'll have newfound time to focus on your customers.
Lean into resources and communities
A quick internet search will reveal countless online public forums to join that are designed for small businesses. These support systems are venues in which to share what you're doing, what's not working and discuss industry trends.
Today, more than ever, online communities are the alternatives to conventions and have afforded small business owners an opportunity to keep networking, despite the circumstances. There is power in aligning with other entrepreneurs, especially when they need to get creative to counteract the sharp pain points brought on by the pandemic.
On that note, I'd like to give you and your team a one-time complimentary social media "reach" assessment (No obligation or risk). Follow this link to schedule a Zoom call with me and our top strategist. Simply click the link to access our calendar and schedule the Zoom call. Be sure to pick a time that you can be in front of your computer and check your email for confirmation. The confirmation will contain instructions for joining the Zoom meeting. By doing it this way we will be able to share our screen and show you some live examples of what we do.
P.S. You can find our rate card here. You might be surprised how easily our services can fit into any budget.